What is a Seasonal Subscription Box?
The seasonal Subscription box was designed to get your creative side and show it in each cookie. The box comes prepared with cookies and icing ready for you to get creative. You can expect the box to include fun and cute themes in the cookie design and shapes.
What is included in the Seasonal Subscription Box?
Each box will include Regular size cookies and on some occasions mini-size cookies. The cookies will have different designs based on that season's theme. The cookies are individually sealed to keep them fresh. Now to get creative we need some icing bags, you can expect that in each seasonal box. Every season the amount of royal icing bags will vary between 3 and 4 colors. It will all depend on the design and theme of that box.
Lastly, we also include an instructional card and if you want to replicate the design we did for that season you can follow along with an instructional video.
For the Fall Box 2023, the release date is Friday, September 29th. Pre-Sale will open on Wednesday, August 16th.
What is this Fall 2023 Theme?
Fall Sweater Weather
This theme includes some items you might see during the fall cool season.   Subscription boxes will include 3 colored royal icing bags shown in the picture.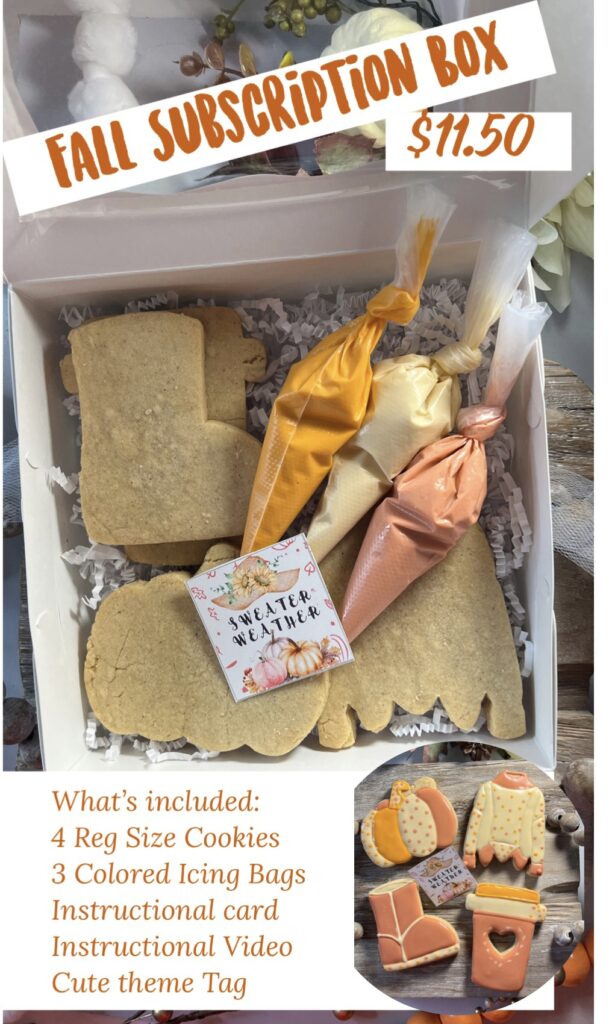 To recap here is what you can expect for this Fall 2023 Seasonal Subscription Box
4 Regular Size Cookies (not decorated)
3 Colored Royal Icing bags
1 instructional card
1 instructional video (Online)
Bonus – (mini cookie) – flavor to be determined
What is the subscription box cost?
The Seasonal Subscription box for 2023 price is $11.50 you will receive everything mentioned above which is a perfect way to show your creative cookier side. You can sign up to receive our monthly newsletter in it you might find promo codes that can be applied to the price at checkout.
We also offer a yearly subscription for the year 2023 it will include 2 boxes total and the price is $27.75.
Ready to welcome each season with our Seasonal Subscription box click here to get started..
Instructional Video for this Fall DIY Subscription box
Once you receive your DIY Cookie kit is important to go over a few easy steps, those you will find in your Fall Subscription Box. Not to worry if this might be too complicated for you because is not, this is pretty easy basic steps.
If you want to follow along to replicate how I decorated the Fall set you are more than welcome to follow along on the instructional video (coming soon)
Video – Part 1 (Getting Started and Piping Regular size Cookies)
Video – Part 2 (finishing all of the cookies)