What is a Seasonal Subscription Box?
The seasonal Subscription box was designed to get your creative side and show it in each cookie.  The box comes prepared with cookies and icing ready for you to get creative.  You can expect the box to include fun and cute themes in the cookie design and shapes.
What is included in the Seasonal Subscription Box?
Each box will include 3 Regular size cookies and 3 mini-size cookies.  The cookies will have different designs based on that season's theme. The cookies are individually sealed to keep them fresh.  Now to get creative we need some icing bags, you can expect that in each seasonal box.   Every season the amount of royal icing bags will vary between 3 and 4 colors. It will all depend on the design and theme of that box.  Lastly, we also include an instructional card and if you want to replicate the design we did for that season you can follow along with an instructional video.
When is the Seasonal box release date?
Each year we will release a total of 4 boxes, one for each season.  The estimated schedule for this year is as follows;
Box 1 – Spring Box – Release during the month of Mar-Apr
Box 2 – Summer Box – Release during the month of Jun-Jul
Box 3 – Fall Box – Release during the month of Sept-Oct
Box 4 – Winter Box – Release during the month of Dec
For the Summer Box 2023, the release date is Friday, July 14th.  Pre-Sale will open on Wednesday, June 7th.
How can I reserve a Seasonal box?
Pre-Sale opens about a month before the box release date, that is the best time to subscribe before they are no longer available.  A great way to reserve each season for 2023 is by getting a yearly subscription.  Not only do you get to reserve each box but you also get extra savings..
What is this Summer 2023 Theme?
Summer Fruit Treat and Summer Snacks
This theme includes some fun summer fruit treats like Key Lime Pie, Watermelon Slice, and a Watermelon drink.  For the mini cookies we decided to do Summer Snacks and one of my favorite snacks is Popcorn of course!.   Subscription boxes usually offer 3 colored royal icing bags but for this box, we decided to add an extra color.  In addition, we are adding some sprinkles to this theme.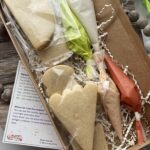 To recap here is what you can expect for this Summer 2023 Seasonal Subscription Box
3 Regular Size Cookies (not decorated)
3 Mini size Cookies (not decorated)
4 (not 3) Colored Royal Icing bags
1 instructional card
1 instructional video (Online)
Sprinkles
(mini cookie) iced – flavor to be determined
What is the subscription box cost?
The Seasonal Subscription box for 2023 price is $17.75 you will receive everything mentioned above which is a perfect way to show your creative cookier side.  You can sign up to receive our monthly newsletter in it you might find promo codes that can be applied to the price at checkout.
We also offer a yearly subscription for the year 2023 it will include 3 boxes total and the price is $48.75.
Ready to welcome each season with our Seasonal Subscription box click here to get started..